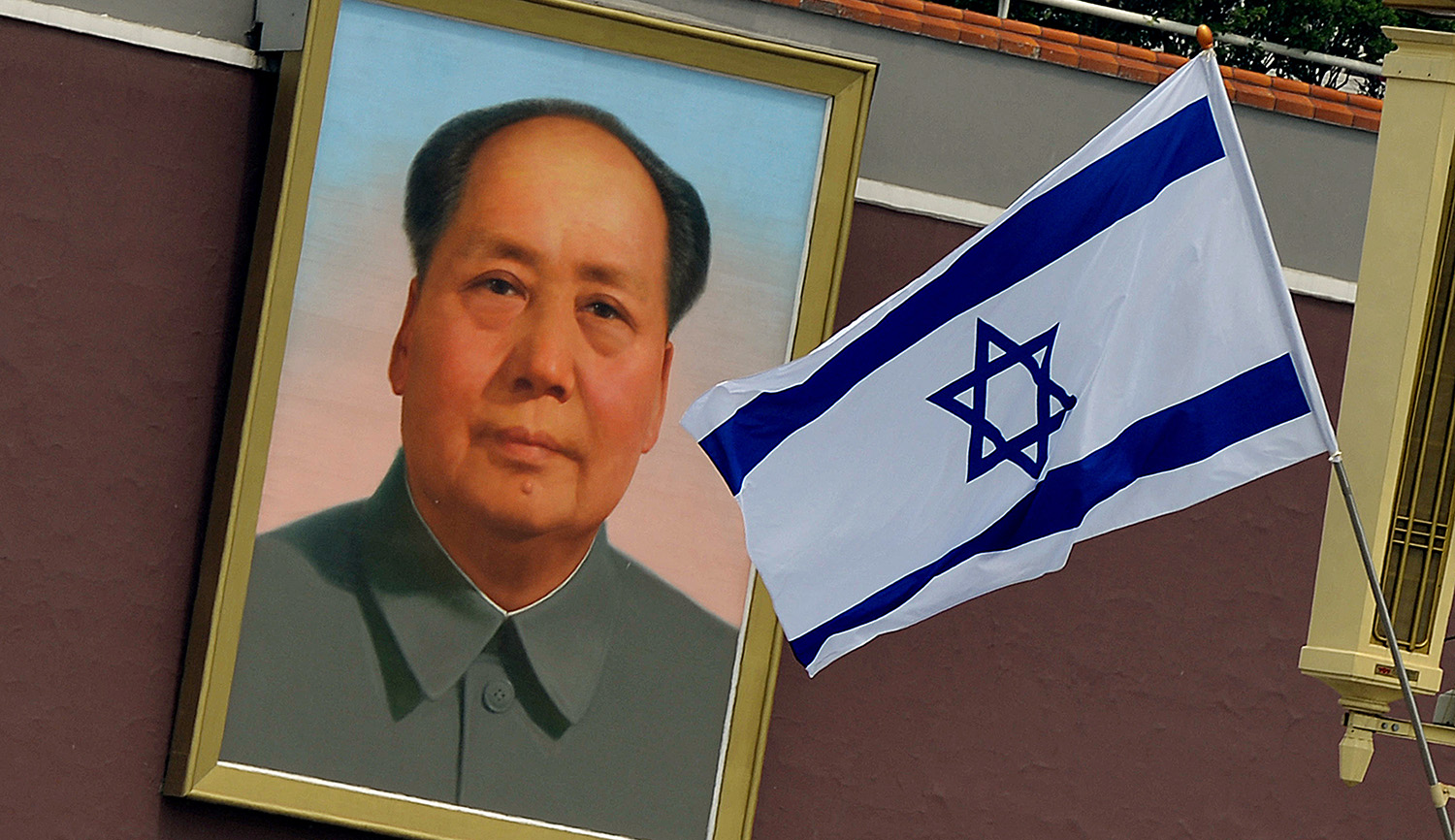 The Israeli flag flies beside a portrait of Mao Zedong at Tiananmen Gate in Beijing on May 8, 2013. MARK RALSTON/AFP via Getty Images.
The headlines speak for themselves. Two years ago, a writer in Foreign Policy lamented that the U.S. has tried and failed to "get Israel to break up with China." A year later, it was the editor of the Jerusalem Post who argued that Israel "has to choose" between Washington and Beijing, while the Washington Post noted that Israel's failure to do so was "testing its relationship with the U.S." Mosaic has been raising this question from the beginning: a 2015 headline asked "Is China a Friend of Israel?" but by 2018 the definitive answer was that "Israel's embrace of China is sorely misguided," and by 2020 this embrace was an "impasse obstructing U.S.-Israel relations." The concerns expressed in these and scores of other articles are all too real: the People's Republic of China is a serious challenge, the U.S.-China rivalry is becoming more intense, and Washington is troubled by its allies' entanglements with Beijing. But the issues are not quite so stark as we are often told.
This might seem an odd thing to say in 2022, when what were once the worries of a few foreign-policy wonks and former diplomats have become a major part of the public discourse. In the 30-odd months since I last wrote about this subject in Mosaic, the world has been transformed. American economic and diplomatic competition with China has become more overt and more intense in almost every sphere. At home, the Chinese government has grown more assertive, tightening its grip on Hong Kong and subjecting the Uyghurs of Xinjiang to myriad ordeals and cruelties. Abroad, its representatives practice "Wolf Warrior" diplomacy, bluntly condemning the policies of its perceived rivals and responding aggressively to any criticism. Then there are Beijing's severe economic and diplomatic measures against Australia—for voicing support for an international inquiry into the sources of COVID-19—and Lithuania—for allowing a Taiwanese embassy to open in Vilnius. China's implicit backing for the Russian war on Ukraine has brought the polarization of the international system into sharper relief, while its continued threatening of Taiwan raises worries of a showdown that could have far-reaching effects on the entire world order. Add to this the coronavirus pandemic and the attendant economic and social disruption, and the result is a worldwide shift in China's perceived power and reputation.
America, for its part, has changed in response. Despite the major tonal differences between the Biden administration and its predecessor, there has been a great deal of continuity between the two in dealing with China and the Indo-Pacific. While there remains much uncertainty and debate about how to confront China, there is now, unlike before, little question that its ambitions must be countered. Overall, the U.S. sees its task as defending the global order of free trade and respect for national sovereignty. Beijing, by contrast, views American polices as an effort to contain and weaken its influence.
In this atmosphere of heightened tensions, it's easy to understand some of the panic about Israel "falling into China's orbit" or ending up "on the wrong side" of a new cold war. Yet such panic is both unmerited and unhelpful. To see why, it's necessary to follow some basic guidelines: mind the facts, details, and timelines; beware assumptions of linear continuity; doubt broad, sweeping statements; be sure to look at numbers in their proper scale and context; compare and contrast Israel with other players facing similar choices; test authors' claims against official statements; and accept evidence even when it contradicts prior assumptions. Applying some of those practices may provide a more credible readout of Israel-China relations than the headlines' cannonade.
I. Roads, Chips, and Alliances
Before digging into the current details, some background is in order. The natural place to begin is in 2012, when Xi Jinping became the general secretary of the Chinese Communist Party (CCP) and president of China. The following year, China announced what came to be known as the Belt and Road Initiative—a vision of a global network of transportation, industry, and telecommunication infrastructure that would advance Beijing's economic and strategic agendas. In concrete terms this meant investing in the building of ports, railways, power plants, cellular networks, and so forth across Asia and into not only Europe and Africa, but also Latin America and the Arctic, with the goal of creating an integrated "new silk road." In the past year, Beijing also announced the Global Development Initiative and the Global Security Initiative—as yet vaguely defined, mutually reinforcing efforts to promote sustainable development and security based on "respect for sovereignty and territorial integrity" in accordance with China's worldview and interests.
Against these, Washington has worked with its allies to advance several counter-efforts: the G7's Partnership for Global Infrastructure and Investment to provide an alternative to the Belt and Road that helps low- and middle-income countries develop their infrastructure in environmentally sound ways; the Quad, a security forum for strategic dialogue among the U.S., Australia, India, and Japan, revitalized to manage maritime security, economic, and humanitarian issues; the 2021 pact among the U.S., UK, and Australia to cooperate on security issues in the Indo-Pacific, known as AUKUS; and the Partners in the Blue Pacific, an alliance of the AUKUS countries plus Japan and New Zealand that seeks to offset China's influence in the Pacific. NATO has also been awakened by Russia's war in Ukraine, and is starting to see its role expanding beyond Europe towards the Indo-Pacific.
Beyond the questions of infrastructure, trade, military buildups, and diplomatic and economic alliances that are familiar arenas of Great Power competition, emerging technologies—especially semiconductors—have become vital issues. Just last month, President Biden signed the CHIPS and Science act, providing $52.7 billion for American semiconductor research, development, and manufacturing in order to address the growing risks posed by Asian domination of this industry, and America's increasing dependence on foreign supply chains.  The administration also banned the export of top-level artificial intelligence-enabling computer chips to China, seeking to slow the latter's advances in this field. One might be tempted to imagine a "Silicon Curtain" descending upon a decoupled globe, where neither side buys chips from the other—except that our world is much more intertwined and interdependent than it was during the 20th century's cold war, and it will remain so for many years even if a new cold war between the U.S. and China intensifies. This evolving situation, replete with internal tensions, opposing goals, and policy contradictions, demands complexity and nuance, which are abundant in America's policies, as in those of its allies.
Following several years of rapidly growing relations with China since early last decade, this past year continued to provide much evidence of strengthening ties. But that isn't the whole story.
Where does this leave Israel? Following several years of rapidly growing relations with China since early last decade, championed by then-Prime Minister Netanyahu, this past year continued to provide much evidence of strengthening ties. In September 2021, the Shanghai International Port Group began operating the Haifa Bayport, while the University of International Business and Economics (UIBE) in Beijing opened a campus in Petach Tikvah, near Tel Aviv. On November 17, 2021, Presidents Xi Jinping and Isaac Herzog spoke by phone about the upcoming 30th anniversary of the establishment of diplomatic relations between their two countries and about how to develop those relations further. Vice-President Wang Qishan and Foreign Minister and then-Alternate Prime Minister Yair Lapid headed the fifth meeting of the Sino-Israeli Joint Innovation Committee, which was held virtually on January 24, the day of the anniversary itself. Currently, the two governments are negotiating a free-trade agreement, while the overall volume of trade between them continues to grow. But this isn't the whole story.
II. The Numbers
It's easy to be floored by the big numbers, and much commentary on the subject of Israel-China relations has relied heavily on a few figures. Those who see reason for panic point out that bilateral trade has grown from $50 million in 1992 to the $15 billion in 2021 (according to Israel's Bureau of Statistics) or even $22.8 billion (according to China's). Then there is the Chinese investment in the Israeli high-tech sector, which has also grown over the years. But these figures can be misleading, and when they are presented—as they often are—without the proper context they obscure more than they reveal.
It's easy to be floored by the big numbers, but a closer look at the data shows that in 2018 both Israeli exports to China and Chinese investment in Israel peaked.
A closer look at the data shows that in 2018 both Israeli exports to China and Chinese investment in Israel peaked. The former thereafter declined and then plateaued: chips produced in Israel by the mulinational corporation Intel account for about half of all these exports; minerals and chemicals account for another quarter. Meanwhile, investments decreased dramatically, and the number of deals in 2021 stands at 44 percent of what it was in 2018. If the second half of 2022 follows the pattern of the first, this year's deals will near a third of the 2018 peak. Some sources describe a decline in Chinese investment in Israel from around 10 percent of the foreign investment in Israeli high tech a few years ago to the low single digits at present. That being said, precise and comprehensive data are not publicly available.
To put these figures in proportion, Israel's whole yearly trade volume with China throughout 2021 was roughly equal to America's exports to China in November 2021 alone. While the pandemic's repercussions on Israel's place in the international economy remain to be seen, research by Doron Ella shows that in 2020 China's share (not counting Hong Kong) in Israel's foreign trade in goods, $11.8 billion, was still behind Israeli trade with either the EU ($40.1 billion) or with America ($18.1 billion). Recent data that include Hong Kong put China's trade with Israel in 2021 at $18.16 billion compared to the EU's $43.23 billion and the US's $21.31 billion.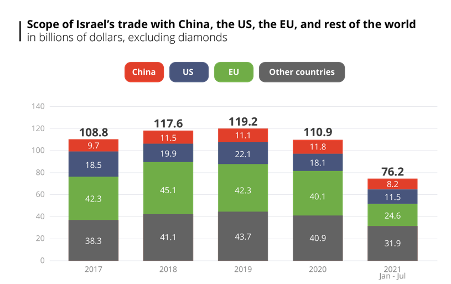 Comparing the relative size of Israel's export of services to these three partners provides an even sharper picture. In 2020 Israel exported $170 million worth of services to China compared to nearly $17 billion to the U.S., and more than $7 billion to the EU. Develop as it may, Israel's comparative trade with these three major partners depends more on their economic performance than on any decision taken in Jerusalem.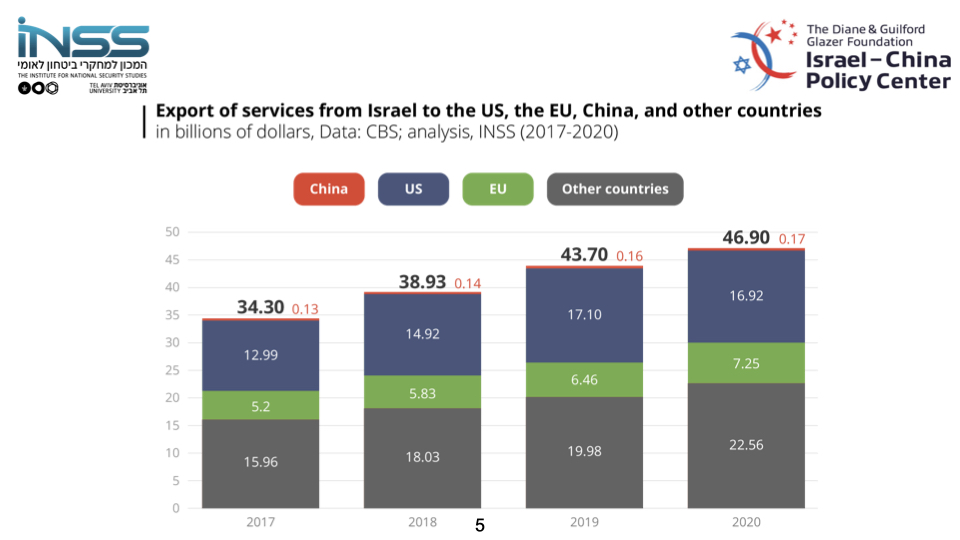 On the monetary side of the equation, news broke in April that the Bank of Israel added the yuan to its reserve currencies for the first time. Reporting on this fact in isolation makes it seem as if China is expanding its hold on the Israeli economy at America's expense. But the fine print explained that Israel diversified its currency mix from dollars, euros, and British pounds to include Canadian and Australian dollars (3.5 percent each) as well as the yen (5 percent) and yuan (2 percent). While the changes will indeed include a decrease in the share in dollars from 66.5 percent to the still-dominant 61 percent, it is the euro's share that dropped most—from 30 percent to 20 percent. In other words, this wasn't a move away from American to Chinese currency, but a general diversification that still mostly favored the currencies of U.S. allies.
In short, the frequently quoted numbers regarding the volume of Israel-China trade are a poor indicator of economic realities, and a closer look reflects a flat export curve against increasing imports from China to Israel, as experienced by most other nations. While a simplified depiction of economic relations between the two countries from 1999—or 2001, or even 2010—would show a trend of linear growth, a more subtle examination shows many areas where commerce has stalled or declined. Focus on trade in goods also misses the negligible trade in services. And just as importantly, Israel-China numbers and trends, presented alone, naturally lack the context and scale added by comparing them to other countries relations with China, first and foremost, the United States, whose economic relations with China, despite the growing rivalry between Washington and Beijing, dwarfs Israel's on each and every count.
III. Infrastructure
Chinese involvement in Israeli infrastructure has received much attention from the would-be Cassandras warning of the unstoppable takeover of the Jewish state by Beijing. The warnings usually note several significant Chinese projects on Israeli soil: the 2007 Mount Carmel tunnels, the Ashdod Southern Port, the Haifa Bayport, the Sorek 1 desalination plant south of Tel Aviv, and the red-line light rail, which when completed will connect Tel Aviv to several cities in its vicinity. About the last, we are usually reminded that it runs "within a mere 150 meters" of the IDF's headquarters, the Kiryah, insinuating potential security hazards as a result of proximity and disregarding both Israel's probable security measures around the highly sensitive site and the comparative espionage potential of other nearby buildings above ground. In the previous decade especially, partnerships involving Chinese companies successfully bid and won several infrastructure projects, with strong support from then-Prime Minister Benjamin Netanyahu and then-Transportation Minister Israel Katz.
But here too there is more to the story. Take the best-known of these infrastructure-related security concerns, regarding the Chinese firm SIPG's operation of the Haifa Bayport. Not only is the Bayport near the Israeli navy's main port, but the U.S. Navy's Sixth Fleet also regularly docks at Haifa. A former American navy official's warning at a 2018 conference that the U.S. might no longer be able to use the port without serious security risks, undermining naval cooperation between the two countries, was quoted widely and still echoes in writing on the subject. Before SIPG began operating the port, however, Sixth Fleet spokespersons noted that its policy remained unchanged and refused to speculate about the future. In October 2021—a month after SIPG began operations—the USS O'Kane visited in Haifa, and the USS Jason Dunham followed suit in February 2022. The USS Forrest Sherman also made a port call in Haifa just a few days ago. With these stops, the U.S. Navy is quietly signaling that it doesn't see the Chinese presence at the port as a prohibitive security threat. An "all clear" statement is yet to be made, and Jerusalem should not hold its breath waiting for one, but instead take a cue from American deeds, while continuing to take the proper security measures.
Moreover, Israel may have already begun to turn away from Chinese infrastructure investment. Galia Lavi, my colleague at the Glazer Center for Israel-China Policy, has shown in a recently published study that in eight of the sixteen years between 2006 and 2021, Chinese companies won just one project per year and in five years won none. The zenith came in 2015, when they won five, followed by 2019, in which they won four. But 2020 appears to have been a turning point: Chinese companies bid for four out of seven tenders but won just one. In 2021, they won only two small tenders, and in the first half of 2022 Chinese companies contested two tenders but lost both. In fact, no Chinese company has won a bid for an operating project since 2019, even if they continued to win construction projects, albeit in lower numbers. This trend may reflect two points: Chinese participation in Israel's infrastructure projects peaked in 2019 and cooled down since, while construction ("build and leave") projects are seen as entailing lower security risks than ongoing operating projects that come with long-term presence and access.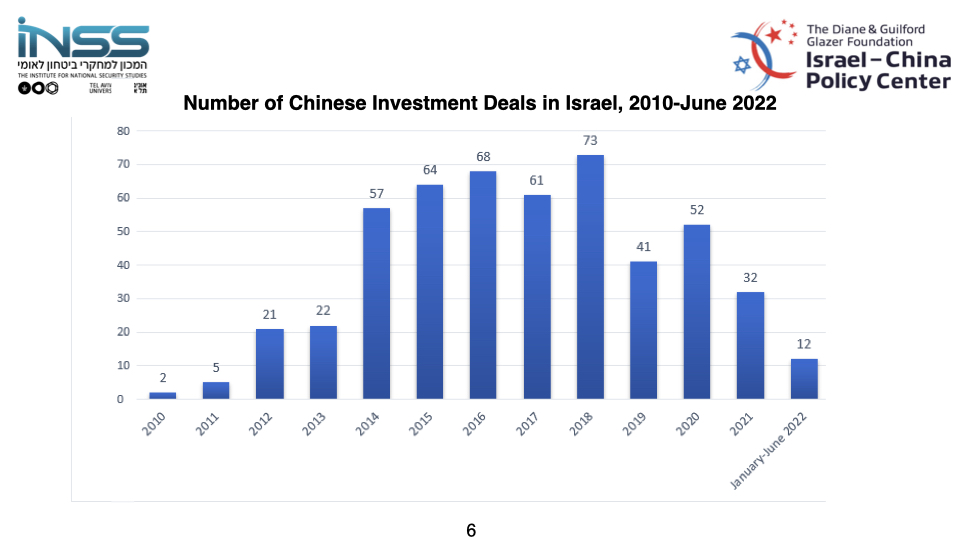 None of this seems to be a fluke. Chinese companies and their partners lost bids to manage the Ramat Hovav power plant project, the Sorek 2 desalination plant, and the green and purple lines in Tel Aviv's light rail. More to the point, the first two tenders were finalized just after Secretary of State Pompeo visited Israel and reportedly pressed his hosts on the matter. The Urbanix group—the consortium of three Israeli and two Chinese companies that lost the bid for the green and purple lines—filed a formal complaint in an Israeli court, alleging that they had been denied the tender due to foreign pressure. Another factor at play might be the establishment in 2020 of an advisory board tasked with giving its opinion on the security aspects of foreign investment, specifically created to assuage American concerns about China. Although it received harsh criticism (some of it justified) from Washington over its structural shortcomings, its very existence may have had a salutary chilling effect: Chinese companies have made fewer bids on infrastructure tenders, and the bodies picking the winners might be less likely to choose them to avoid risks they now better understand.
The advent of the Bennett-Lapid government in June of 2021 also appears to have accelerated the change of tone toward Beijing, since Netanyahu is, with good reason, seen as the architect of Israel's China policy.
The advent of the Bennett-Lapid government in June of 2021 also appears to have accelerated the change of tone toward Beijing. Netanyahu is with good reason seen as the architect of Israel's China policy, and personally championed the "marriage made in heaven" between the two countries and the "comprehensive innovation partnership" agreement they signed; he was also seen as dragging his feet in response to American demands to take relevant precautions. Prior to Naftali Bennett's first meeting with President Biden since becoming prime minister in August 2021, his office briefed the media that his government was taking American concerns on China seriously, and recognized the issue as one of national security. Yet, as was the case in many spheres, the Bennett government's China policy is to be found more in quiet work than in loud statements. The national-security advisors in Jerusalem and Washington, and their respective staffs, took the lead in addressing the subject, trying to stay out of the headlines.
With technology at the focal point of strategic competition, Jerusalem and Washington are seeking to cooperate more extensively in this field. In late 2021, Communication Minister Yoaz Hendel and his U.S. counterparts agreed to establish joint working teams on 5G technologies, which the Israeli press framed as part of the U.S. "tech battle with China." National-Security Advisor Eyal Hulata's background in technology may well facilitate such cooperation with his U.S. counterparts, among them the White House senior director for technology and national security, Tarun Chhabra.
And indeed, on July 13, the day of President Biden's arrival in Israel, he issued a joint declaration with the caretaker prime minister Lapid about launching U.S.-Israel strategic dialogue on technology. China was not explicitly mentioned in the text, but in a paragraph on "trusted tech ecosystems" the parties agreed to seek increased policy coordination on managing risks that are clearly linked to the U.S. perception of the People's Republic as a threat. The first session of the dialogue is set to take place in the fall, seeking to maintain the momentum amid Israel's political instability.
IV. Keeping a Low Profile
Working outside of the spotlight and focusing on deeds rather than declarations is an approach that has long characterized the more successful parts of Israeli foreign policy, from nuclear affairs to countering Iran. On China too, Israel has avoided publicly confronting Beijing, instead calling attention to areas of cooperation while addressing differences behind the scenes. The cabinet resolution that established the aforementioned advisory board on foreign investment did not mention any nation by name, even though it was clearly formed in response to American concerns over China. Likewise, Jerusalem never made any public statements about Chinese participation in its cellular infrastructure—a major concern for Washington when it comes to the UK and other allies—but tellingly, Chinese companies have long ceased playing any role in building Israel's cellular networks.
There are other examples. Hutchinson Whampoa, a Hong Kong-based company, was involved in the establishment of the Israeli cellular-service provider Partner in 1998, selling its shares in 2009 and receiving them back in 2019. That year Hutchinson requested permission from the Israeli Ministry of Communications to take control of the company. When its request went unanswered, it decided to sell all its shares. In 2021, Israeli police authorities indicted several people for attempting the illegal sale of loitering munitions (including so-called "suicide drones") to what news outlets referred to as "a country in Asia." Only later that year did the Israeli censor apparently lift its ban on naming the buyer as China.
A similar pattern can be detected on the diplomatic front, where Israel's record is mixed regarding human rights in China. Israel joined the U.S. and other Western countries in condemning China's treatment of the Uyghurs in June 2021 and in calling for a WHO investigation of the sources of COVID-19, but in other cases it abstained from voting on anti-China resolutions at the UN Human Rights Council, perhaps to the disappointment of Washington. Jerusalem seems to use its votes as a way to signal its displeasure at Beijing's longstanding pattern of voting against Israel in international forums, especially after China's Security Council vote against it, and harsh condemnations, during the May 2021 Gaza conflict. In doing so, Israel can show China that it does not mindlessly follow Washington's lead, and that bilateral engagement is potentially useful. As Jerusalem prudently avoids making Beijing lose face, especially on the latter's core interests, those wishing to see Israel publicly bash China shouldn't hold their breath. In fact, U.S. officials have told me that they don't expect a public Israeli rebuke of China, but would rather see Israel seriously addressing America's concerns about influence and, most importantly, technology transfer.
In June 2021 the former chief of the Mossad, Yossi Cohen, correctly stated that "China is not Israel's enemy" but unfortunately added that he "does not understand the U.S.'s problem with it," unsurprisingly stirring shock and anger in America. In stark contrast, a January 2019 speech by Nadav Argaman, then the head of Israel's Security Agency (Shin Bet), warned against the risk of Chinese companies penetrating infrastructure and other vital areas of Israel's economy, and called for tighter legislation to safeguard Israel's data and independence. Argaman's words may have provided a rare look into his agency's professional view on China. The Shin Bet, whose remit includes counterespionage, has the leading role in responding to foreign activity in the country. Its own risk assessment is most probably brought to the investment-oversight advisory board, established a year after the speech. Israel by now recognizes that a fruitful and safe relationship with China must include measures to counteract the challenges encountered by other nations: Chinese influence efforts aimed at national and municipal politics as well as at business and academic elites, cyber and traditional espionage, and, above all, unwarranted technology transfers.
Israel by now recognizes that a fruitful and safe relationship with China must include measures to counteract Chinese influence efforts aimed at national politics as well as at business and academic elites, espionage, and unwarranted technology transfers.
China has candidly shown its interest in Israel's technology, as expressed in the Comprehensive Innovative Partnership signed between the countries in 2017, and much work has been done to promote this partnership since it was forged. The recent and excellent book, China's Quest for Foreign Technology: Beyond Espionage, details a few dozen technology-transfer methods used by China, few of which are clearly illegal, while most tend to be "gray-zone" methods, so called because they push the limits of legality and are neither straightforward espionage nor the innocent sharing of technology. China is reportedly employing these methods in many countries, with local adaptations.
Indeed, in August 2021, the cybersecurity firm FireEye reported a wide espionage campaign against Israeli entities by a Chinese group. In May 2022 another cybersecurity company, Cybereason, exposed a massive industrial-espionage effort against Israeli targets, also attributed to China. Most probably, Israel's cybersecurity authorities have not learned of those threats from the media, but are well aware of such activities. In early 2022, Israeli security agencies ramped up their enforcement efforts against what was described as a web of Chinese companies seeking to obtain defense technologies from Israel.
These examples and the aforementioned illicit attempt to export arms demonstrate that beyond the agreed-upon exchange between the countries, Chinese entities engage in illegally or covertly acquiring Israeli state secrets and defense technology, as well as trade secrets and intellectual property. Here China probably followed the same playbook it employs on a much larger scale in the U.S. and other Western countries, combining cyberespionage with various diplomatic, covert, business, and academic activities.
While promoting its partnership with China on agreed-upon issues, Israel still must decrease its exposure to Chinese tech transfer efforts outside these boundaries. Beyond government preparedness, Israel's business and academic spheres are stakeholders on the technology-transfer front, and they have much work to do, as do their American counterparts. As most Israeli businesses and scholars in fact "go West"—that is they prefer to find business partners and financial backers based in the U.S., EU, and other Western-leaning countries—more research is needed to ascertain the actual exposure of Israel's technology to China.
V. The Image of China
Such changes in private attitudes of course depend on general perceptions of China, and in Israel the perception is generally positive, but recent years saw a change here too. Back in 2019, a Pew poll found that while 26 percent of the U.S. public held favorable views on China and 60 percent unfavorable, the picture in Israel was the opposite, with 66 percent favorable and 25 percent unfavorable. A recently published poll from 2022 found that Americans' views on China have worsened since—16 percent favorable and 82 percent unfavorable—but so have Israeli views, now at only 48 percent favorable and 46 percent unfavorable. Still, while 70 percent in the U.S. see relations with China as bad, only 19 percent think so in Israel, and Israel scores last in a multi-country survey of the severity with which various populations see China's policies on human rights, its military power, its economic competition, and its involvement in the politics of other countries.
What then is behind the shift in the Israeli public's attitude toward China? While empirical research is not yet available, one may point to growing media coverage of negative aspects of China's foreign policy, including the dangers of its involvement in Israel's economy and infrastructure. COVID-19 abruptly cut most travel between the two countries, including business travel, study, and tourism, severing the ongoing rapport of the last decade. China's embassy in Tel Aviv has repeatedly overreacted to stories in the media that it saw as harming China's image or core interests: an article on organ harvesting, a flurry of hasty but false reports on alleged espionage gear in thermal cups presented by the embassy to Israeli officials, and a Jerusalem Post interview with Taiwan's foreign minister that drew the embassy's threats against the newspaper and even reports of a threat to downgrade diplomatic relations (although it is highly doubtful that the latter was actually made). In the wake of this storm, an opposition Knesset member requested that the foreign minister explain his response to China's blunt intervention in Israel's free speech and freedom of the press.
Clearly, China's embassy in Tel Aviv is overeager to show Beijing how assertively loyal it is in protecting the motherland's honor, while strangely expecting Israel's press to tow its government's line the same way the Chinese press would. In addition to the somewhat negative effect of the embassy's overreaction, China's reputation in Israel surely does not benefit from Beijing's growing relations with Tehran, Israel's foremost enemy, and from its policy of siding with the Palestinians against Israel in its public statements, which has not changed or moderated despite improving relations in other areas. But perhaps much of the shift in views on China stems from Israeli government's public posture.
China's embassy in Tel Aviv is overeager to show Beijing how assertively loyal it is in protecting the motherland's honor, while strangely expecting Israel's press to tow its government's line the same way the Chinese press would.
Whereas in the previous decade Benjamin Netanyahu had actively promoted China's reputation in Israel, touting the many benefits of improved relations—with his ministers joining in—in more recent years officials have adopted a businesslike, low-profile approach to China. The Haifa Bayport inauguration ceremony in September 2021 was a mellow affair, conveniently held under coronavirus restrictions, with Israel's minister of transportation attending virtually, and no mention made of the Belt and Road. The 30th anniversary of the establishment of diplomatic relations in January 2022 was modestly celebrated, with no grand events. The last decade's honeymoon—with its enthusiastic festivities and carefree optimism—is now over, and has been succeeded by more clear-eyed, risk-aware, and balanced conduct.
The Israeli Foreign Ministry recently characterized China-Israel relations as "current political dialogue, close trade and economic relations, and a variety of collaborations linking the two peoples." The Chinese ambassador to Israel, Cai Run, noted that "China-Israel relations have maintained healthy and stable development, and cooperation in various fields has yielded fruitful results." Neither description carries the breathless superlatives of the previous decade, and both reflect a matter-of-fact approach. Both sides now seek to continue to benefit from their relations, aware of the growing constraints imposed by global dynamics. As ambassador Cai put it, "China-Israel cooperation [is] an independent and voluntary choice that doesn't target any third party, nor should it be affected by any third party." In other words, China is well aware of America's influence on Israel's choices, yet still hopes to continue working with Israel in areas unaffected by great-power competition.
How does this look from Washington? In his May 26, 2022 speech about the Biden administration's approach to the People's Republic of China ("invest, align, compete"), Secretary of State Antony Blinken said: "We don't expect every country to have the exact same assessment of China as we do. We know that many countries—including the United States—have vital economic or people-to-people ties with China that they want to preserve. This is not about forcing countries to choose. It's about giving them a choice." Visiting Israel last June, Blinken's deputy for global Asia, Jung H. Pak, stressed that the administration is engaging Israel and other allies and partners to ensure that "they are in the driver's seat in their relationships with the PRC," and helping them find ways to become more resilient against China's less benign activities.
Unlike the op-eds exhorting Israel to "choose" between the U.S. and China, to "cool down" or "break up" with it, the White House, in Blinken's words, is "consulting with [its] partners, listening to them, taking their concerns to heart, building solutions that address their unique challenges and priorities," supported by a "growing convergence about the need to approach relations with Beijing with more realism." This convergence may well explain the developments in Israel-China and Israel-U.S. relations described above, as each of the three parties adopt a more realistic approach.
Israel and China both recognize that the golden age of the previous decade is over, but also understand that a great deal of mutually beneficial cooperation is still possible in the circumstance of the 2020s. At the same time, Israeli policymakers realize that managing relations with Beijing doesn't only involve assuaging American concerns, but also facing direct challenges to Israel's security. Secretary Blinken spoke about "Beijing's efforts to gain access to sensitive technologies, data, or critical infrastructure; compromise our supply chains; or dominate key strategic sectors." Those efforts are real, and officials in Jerusalem understand the potential risk to Israel from gray-zone technology transfers, the theft of data, economic dependency, and potential supply-chain problems. A rosy-eyed and carefree approach has gradually given way to a more sober one, in Washington as well as in Jerusalem.
There remains much work to be done in order to develop expertise and, more importantly, to build trust and to reassure Israel's partners in America that it takes their concerns seriously, and is seizing the initiative in proactively addressing them. To the frustration of the Cassandras, Israel won't be breaking up with China anytime soon, just as the U.S. isn't considering doing so itself. In other words, the Jewish state has drawn realistic conclusions rooted in a recognition of both the risks and the benefits presented by China, and structures its policy accordingly. Likewise, Jerusalem doesn't have to choose between Washington and Beijing, because it's already chosen the former. It is taking steps to mitigate the effects of China's unsavory practices and the risks posed by its conduct, although, like many other countries, it will need to continue to modify and improve upon these steps. And as it does more, it won't be with headline-making announcements, but with behind-the-scenes shifts. Nobody should rest easy, but rather than panic, it's most prudent for Israel to proceed calmly and deliberately, together with its friends and allies.