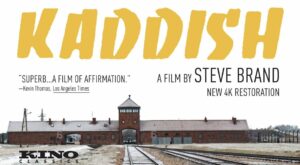 The Event
When the Israeli writer Yossi Klein Halevi was a child growing up in Brooklyn, his father, Zoltan, told him bedtime stories about the Holocaust: tales of his fleeing from the Nazis, of living in an improvised forest bunker for months on end, of how his parents were murdered.
What sort of effect did that way of growing up have on young Yossi? And what did it make him think about Jewish power, the fragility of Jewish life, and the fate of the Jewish people?
On Thursday, August 11 at 6:00 pm Eastern time, join us online to watch Kaddish, a documentary that tells the story of how a young Jewish man, surrounded by Holocaust survivors, came to terms with his father, with his people, and with being Jewish after the Shoah. We've arranged a free screening of the film—newly restored and remastered—just for Mosaic subscribers. Afterwards, stay with us for a special conversation with Yossi Klein Halevi.
How to Join
If you're not yet a subscriber, you can sign up and claim your ticket for Kaddish right here. 
A ticket costs just $40, is good for the whole family, and comes with a year-long subscription to Mosaic.
If you're already Mosaic subscriber, then you're entitled to a ticket. Just fill out this form to claim yours:
Questions? Email [email protected].