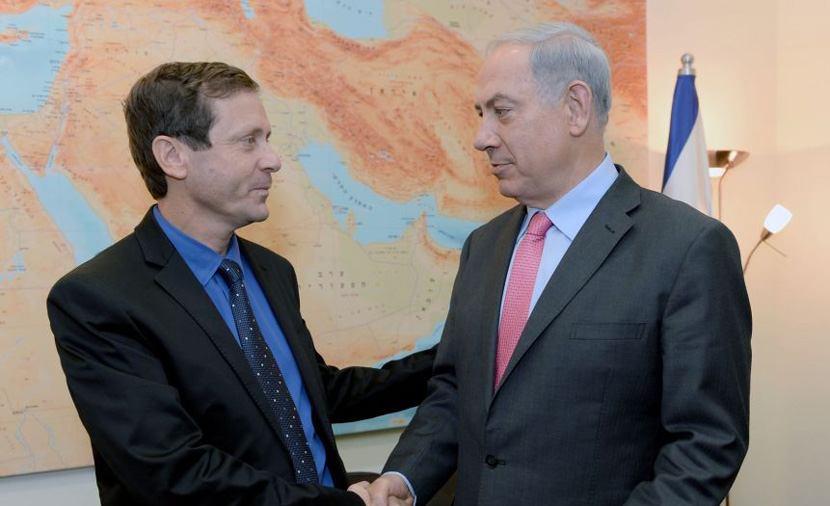 Opposition leader Isaac Herzog, left, with Prime Minister Benjamin Netanyahu. Kobi Gideon, GPO
Got a question for Philologos? Ask him directly at [email protected].
"Until a few years ago," wrote the New York Times' Israel correspondent Jodi Rudoren in a recent dispatch commenting on the lack of substance in the current Israeli election campaign,
there was no Hebrew word for debate. Then in 2012 linguists adopted the term "mamat," whose root meant "confrontation," which Yoni Cohen-Idov, an international debating champion, sees as symptomatic of what ails his nation's political discourse. "Debate, the English word, consists of two elements—one is confrontation, the other is discussion," he said. "If you're rivals and you only shout at one another and make slogans, and you don't discuss them in depth, that is not a debate."
About the dismaying triviality of the politicians bidding for Israelis' ballots on March 17, I couldn't agree with Rudoren more. Nor would I blame her for her faulty Hebrew, even though had she bothered to check, she would have known that the neologism in question is ma'amat, not mamat, from the root ayin-mem-taf, found in the Bible in l'umat, "across from" or "facing." Ma'amat was indeed adopted as a term for debate several years ago by the Academy of the Hebrew Language, an official body of linguists and scholars entrusted with coining new Hebrew words.
No, the real culprit here is Cohen-Idov—and the Academy. The first is ignorant, the second misguided.
No Hebrew word for debate? This would be passing strange if true, since debate lies at the very heart of the Talmud and of the rabbinic tradition that is based on it. One would as much expect Hebrew to lack a word for debate as one would expect Arabic to lack a word for sand or Inuit a word for snow.
And in fact, it's completely untrue. Hebrew has, quite apart from ma'amat, at least five words meaning "debate," some going back 1,500 years or more.
The oldest of these is plugta, an originally Aramaic word deriving from the Aramaic/Hebrew verb palag, to divide or be divided from. Plugta is regularly used in the Talmud to denote a running argument between two rabbis or schools of thought and yields bar-plugta, a debating partner. This term is applied, for example, to Rabbi Akiva and Rabbi Tarfon in the tractate of Bava Metsiya, in which the two take opposing sides on a series of questions pertaining to the return of stolen property.
A second word for debate with ancient roots is pulmus, which comes from Greek polemos, "war." In the Talmud, where it appears as polmos, it actually means war, but in later ages, like its English cognate "polemic," it took on the meaning of a war of words. For the early rabbis, polmos Adrianus denoted the Bar-Kokhba rebellion against the Roman emperor Hadrian; in contemporary Hebrew, pulmus Bar-Kokhba refers to the ongoing scholarly debate over that rebellion's causes and justifications.
Next comes nitsuaḥ, from the verb natsaḥ, "to triumph over." In an oft-cited talmudic story about Rabbi Eliezer ben Hyrcanus, who performs a series of miracles to prove he is right in a halakhic dispute, the forces of nature that collaborate with him are scolded by Rabbi Yehoshua ben Levi, who tells them: "If rabbinical scholars are debating [menats'ḥim, literally, "striving to triumph"] in a matter of law, what business is it of yours?" From this comes the noun nitsu'aḥ, a debate, first found in the Middle Ages. In modern Hebrew, it has been joined by its synonymous reflexive form of hitnats'ḥut.
"But," Cohen-Idov might counter, "none of these words designates a debate in the sense of a formal contest held in the presence of an audience and judges."
True enough. Yet Cohen-Idov has apparently never heard of various medieval religious debates between Jews and Christians in which precisely such conditions prevailed. Probably the best-known of these took place in Barcelona in 1263, at the court of King James I of Aragon, between Naḥmanides or Rabbi Moses ben Naḥman and the Jewish apostate Pablo Christiani. Remarkably for the times, a panel of Christian judges ruled Naḥmanides the victor and awarded him a monetary prize. In Hebrew this event is traditionally known as viku'aḥ Bartselona, the Barcelona debate or disputation, from the biblical verb hitvake'aḥ, "to argue," and other similar disputations were called vikuḥim, too.
"Surely, though, Hebrew deserves to have two separate words, one for an argument and one for a debate!" one imagines Cohen-Idov persisting, and the Academy of the Hebrew Language would clearly agree. Let viku'aḥ mean "argument," let ma'amat mean "formal debate," and we can all sleep better at night.
But we should have been sleeping well already. No two languages have identical semantic fields, and the fact that there are distinct words for W and X in Language Y is no reason to require them in Language Z. If Hebrew uses the verb lavash for putting on a coat and ḥavash for putting on a hat, does this mean that English needs different words for putting on hats and coats, too? And if Hebrew speakers do want to differentiate more explicitly, they have the option of saying viku'aḥ tsibburi, "a public vikuaḥ," just as one speaks of "a public debate" in English.
Of course, English is a world-dominating language and Hebrew is not—and implicit in the Academy's coining of ma'amat when viku'aḥ is available is the assumption that while English needn't behave like Hebrew, Hebrew should and must behave like English. This is the truly objectionable part of it. If Hebrew speakers knew their own language better and took more pride in it, they wouldn't think a new Hebrew word was called for every time an old one was not a precise equivalent of a word in English. It's not only Cohen-Idov who is suffering from a linguistic inferiority complex. It's the Academy of the Hebrew Language, too.
Got a question for Philologos? Ask him directly at [email protected].