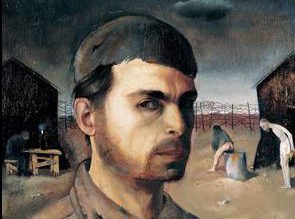 Detail from Felix Nussbaum's Self-Portrait in the Camp. Wikimedia.
Simply by virtue of its focus on German-Austrian art from 1890 to 1940, the walls of New York's Neue Galerie, founded by the philanthropist Ronald Lauder, can unnerve a visitor with their uneasy mix of visions of beauty and images of radical disruption. The museum's most recent show,
Before the Fall: German and Austrian Art of the 1930s
, which closed on May 28 after a three-month run, made the discomfort of that juxtaposition all the more explicit.