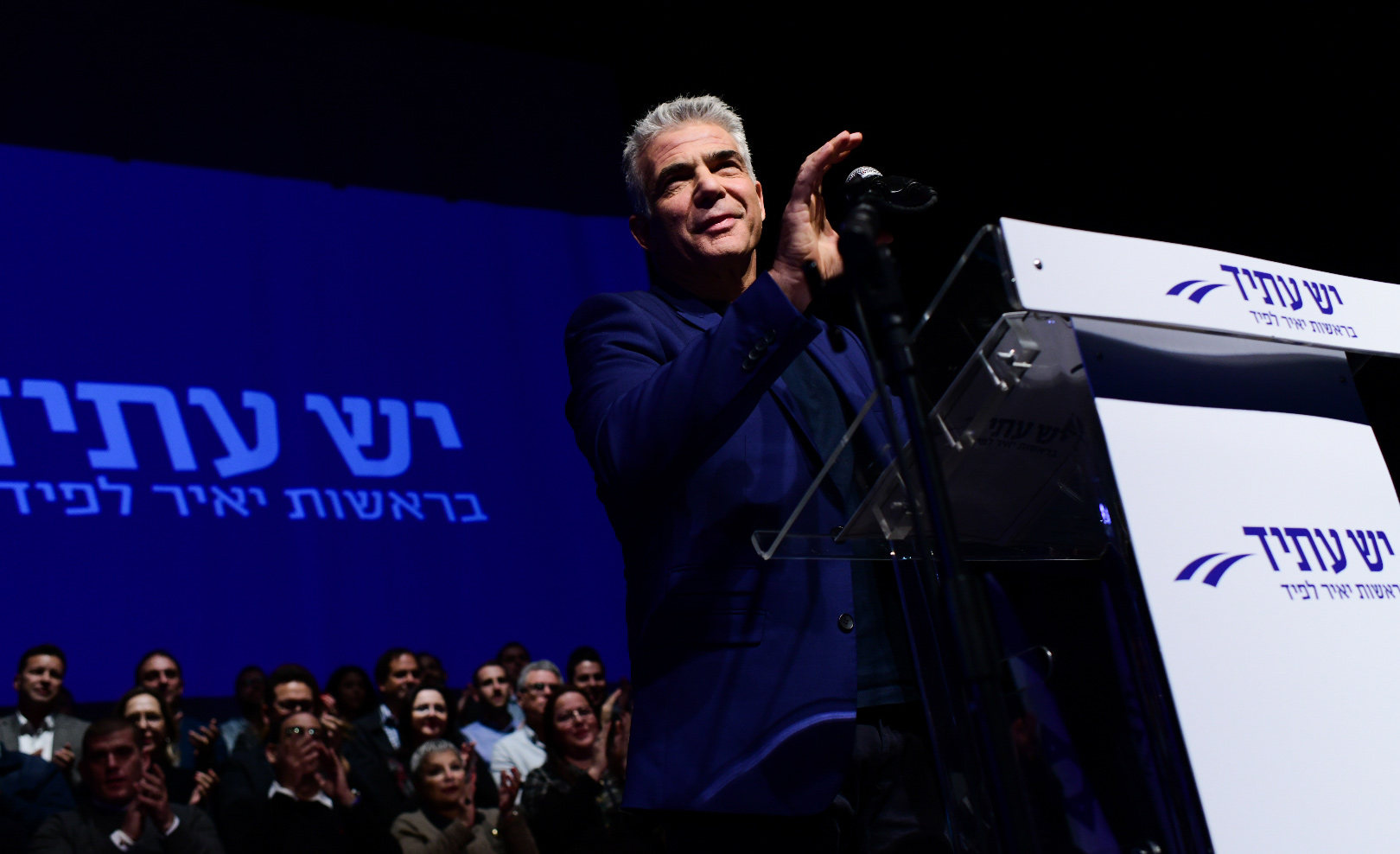 Yair Lapid, leader of the party Yesh Atid, on January 8, 2019. Tomer Neuberg/Flash90.
"The gevalt campaigns worked," was a remark heard over and over on Israeli TV and radio during the long night following Tuesday's elections. It referred to the high percentage of the vote, unanticipated by the pre-election polls, received by Benjamin Netanyahu's Likud and Benny Gantz's Blue-and-White Party at the expense of their smaller competitors.
But what exactly is a gevalt campaign? The question can be answered with the help of a Jewish joke.
Yankl Rosenblum glances at his Yiddish newspaper one April morning and sees a full-page ad signed by his friend Chaim Goldfarb. "Modern New School for Gifted Children to Open in September!" declares the ad's banner caption, beneath which is the explanation that Goldfarb has founded a school for special pupils whose needs are not met by the current educational system, that it will be run according to the most progressive  principles, and that registration is under way.
Rosenblum picks up the telephone and dials Goldfarb. "Chaim," he says when the latter answers, "what is this school you're going to open?"
"But you don't have a penny to your name," objects Rosenblum. "Where will you get the money to open a school in September?"
"It's very simple," says Goldfarb. "The parents will register their children. I'll wait until the middle of August and run another ad. This one will say: 'Gevalt! Modern New School for Gifted Children Forced to Close! Your contributions can save it!'"
That's a gevalt campaign.
"Gevalt!" or "Oy, gevalt!" is a Yiddish exclamation that can be used in one of two ways. It can either lament a misfortune that has already befallen or warn of an impending one that might still be averted. Another joke illustrates this.
Cohen runs into Levy in the street one day after not having seen him for a long time. "Levy," he exclaims. "How are you?"
"Not bad, not bad at all," Levy says.
"And how's your wife Sylvia?"
"What, you don't know? Sylvia died two years ago."
"Gevalt!"
"I'm about to remarry."
"You are? Mazel tov! Who is she?"
"Hattie Feinberg."
"Hattie Feinberg? Feinberg's divorced wife?"
"Yes."
"Gevalt!"
In their successful gevalt campaigns, both the Likud and Blue-and-White launched a last-minute appeal to those contemplating voting for other parties that stood to be their coalition partners. "Gevalt!" cried the Likud. "If you vote for Identity, All of Us, or Israel Is Our Home, we'll end up in second place behind Blue-and-White and lose the election."  "Gevalt!" cried Blue-and-White, which was a pre-election merger of Resilience For Israel with There Is A Future. "Vote for Energy or Bridge and we'll be the ones to come in second."
Blue-and-White? Identity? All of Us? Israel Is Our Home? There Is A Future? Resilience For Israel? Energy? Bridge? What kind of names are these for political parties? Where have all the old names gone?
Consider, for example, the parties in Israel's first Knesset, elected in January 1949. These were, in order of the number of votes received by them: Mapai, a Hebrew acronym for The Worker's Party of the Land of Israel; Mapam or the United Workers Party; the National Religious Front; the Freedom Movement; the General Zionists; the Progressive Party; and the Communist Party of Israel. Also represented were the Democratic List of Nazareth, the Women's International Zionist Organization or WIZO, and the Association of Yemenites.
That's quite a difference from today. With the exception of Menachem Begin's Freedom Movement or Herut, which was the historical successor of Vladimir Jabotinsky's Zionist Revisionist Party, all of these names were staidly informative. They announced where, more or less, the parties bearing them stood on the political spectrum. They were not meant to sound novel, appealing, or exciting. Their message was: "This is the camp we represent. Vote for us if you belong to it."
How did we get from there to such jingly rubrics as There Is A Future or All Of Us? It didn't happen all at once. The first Israeli political party to blaze the trail was the centrist Democratic Movement for Change (ha-tenu'ah ha-demokratit l'shinui) , founded in 1974 by law professor Amnon Rubinstein in the atmosphere of protest that followed the Yom Kippur War. Shortening its name to Shinui or Change, it merged in 1976 with Yigael Yadin's Democratic Movement (ha-tenu'ah ha-demokratit), and the "d" of demokratit and the "sh" of shinui became Dash, an acronym for "regards" in Hebrew. Regards did well in the 1977 elections, garnering 15 Knesset seats.
At about the same time, Shulamit Aloni founded the left-leaning Movement for Civil Rights and Peace. In Israeli elections, which are held with ballot boxes rather than voting machines, each party is represented on the ballot by a combination of letters. For the 1977 elections, Aloni's party was given the letters resh-tsadi, vocalizable as rahtz, which was how it began to be referred to. When it joined forces in 1997 with Mapam, the old United Workers Party, it took Mapam's initial "M," affixed it to Rahtz, and emerged with Meretz, a word meaning "Energy."
Meanwhile, a new religious party was founded in 1982 with the official name of The World Sephardi Organization of Torah Observers. Its ballot letters were shin-samakh or shas, known to every observant Jew, Sephardi or not, to stand for the shishah  s'darim, the six tractates, of the Talmud. Say "World Sephardi Organization of Torah Observers," and no one in Israel will know what you are talking about. Say "Six Tractates" and you have mentioned the party that won eight Knesset seats in this week's elections.
Creativity was now in vogue.  In 1999, when Avigdor Liberman started his Russian immigrant party, he called it yisra'el beytenu, Israel Is Our Home. In 2008, the old National Religious Party united with several smaller groups as ha-bayit ha-yehudi, The Jewish Home. Media personality Yair Lapid created There Is a Future (yesh atid) in 2012. In late 2018, when There Is A Future and the newly founded Resilience for Israel formed a joint list, they reportedly considered naming it Resilience for the Future before settling on the colors of the Israeli flag.
Naming political parties with catchy and catch-all slogans is now the way it is regularly done in Israel. The trend, though, is a general one. French president Emmanuel Macron heads a party called The Republic On the Move. Italy is now governed by a partnership of The Five Star Movement and The League.  Two major new parties in Spain are We Can and Citizens.
All of these parties have abandoned the kinds of names that once projected clear identities, such as Italy's long-governing Christian Democrats or Spain's still powerful Socialist Workers' Party. The names they have chosen tell voters nothing while inviting them to project anything onto them. They represent the politics of advertising rather than of programs, ideas, and socio-economic classes and interests.
Still, even advertisements are for real things. You can try selling a political party as though it were a car or a housing development, but in the final analysis, few people buy cars or houses because of their names. Blue-and-White could have called itself "The Party to Rid Israel of Benjamin Netanyahu" and gotten the same results. It didn't succeed, and now Israel's famously byzantine coalition negotiations are about to begin.
Gevalt!
Got a question for Philologos? Ask him directly at [email protected].