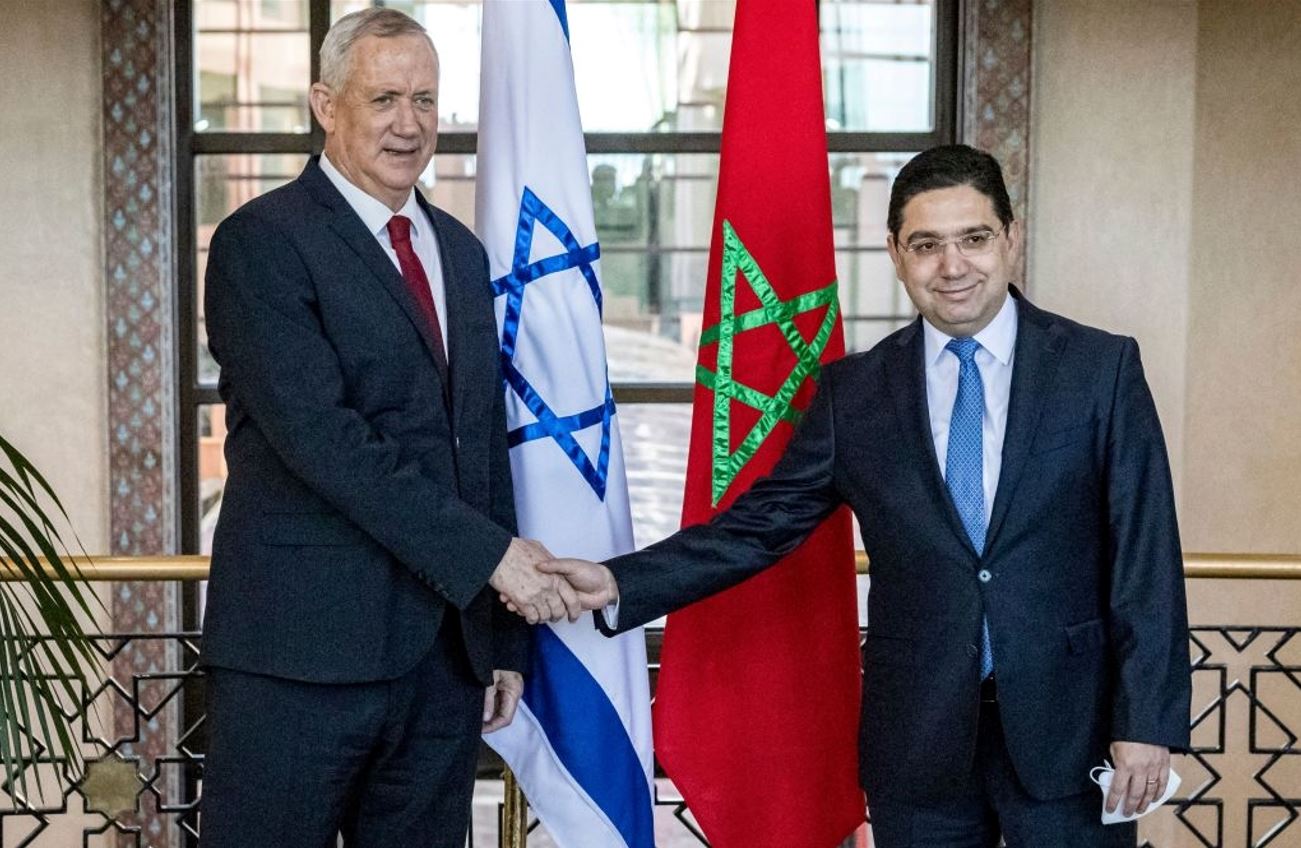 Morocco's foreign minister Nasser Bourita shakes hands with Israel's defense minister Benny Gantz in the Moroccan capital Rabat on November 24, 2021. Photo by FADEL SENNA/AFP via Getty Images.
This Week's Guest: Judah Ari Gross
Last week, the Israeli defense minister Benny Gantz visited Morocco,  accompanied by the first uniformed Israeli military personnel to come to that country in official capacity. Gantz's visit follows on the heels of visits in the last year by the Israeli national-security advisor Meir Ben-Shabbat and the Israeli foreign minister Yair Lapid, both of whom prepared the way for full diplomatic relations between the two countries.
Building on Israel and Morocco's burgeoning diplomatic relations, the purpose of Gantz's recent visit was to negotiate a memorandum of understanding focused on their security cooperation. Judah Ari Gross, the military correspondent for the Times of Israel and this week's podcast guest, accompanied Gantz on his trip. In conversation with Mosaic's editor Jonathan Silver, he explains here how this historic agreement happened, what it means, and how it serves each nation's interests.
Musical selections in this podcast are drawn from the Quintet for Clarinet and Strings, op. 31a, composed by Paul Ben-Haim and performed by the ARC Ensemble.
Excerpt (5:12-6:41):
The relationship with Morocco is particularly interesting to Israelis. Even before the two countries normalized ties, tens of thousands of Israelis would travel to Morocco for heritage tours and to visit whatever family was left there. There's about two or three thousand Jews still living in Morocco, so that was something that sort of existed, and now that there are direct flights between the two countries and much more open ties, that's expected to increase. Unlike a lot of countries in the Arab world, Jews weren't really expelled from Morocco per se. There was certainly some conflict and tension in the years after the formation of the state of Israel, which led a lot of Moroccan Jews to migrate and make aliyah, but it's a pretty rare case of Israeli Jews being able to go back freely and openly to countries where their parents, their grandparents, their great-grandparents hailed from, and to do so in a pretty open way. 
There wasn't such a huge Egyptian Jewish community, and obviously there was a peace treaty between Israel and Egypt, but that is much more of a military to military, government to government kind of relationship, whereas the hope with the Moroccan normalized ties is that this will be something that's much more people to people, and will be much more open and Israelis will be able to travel there freely.