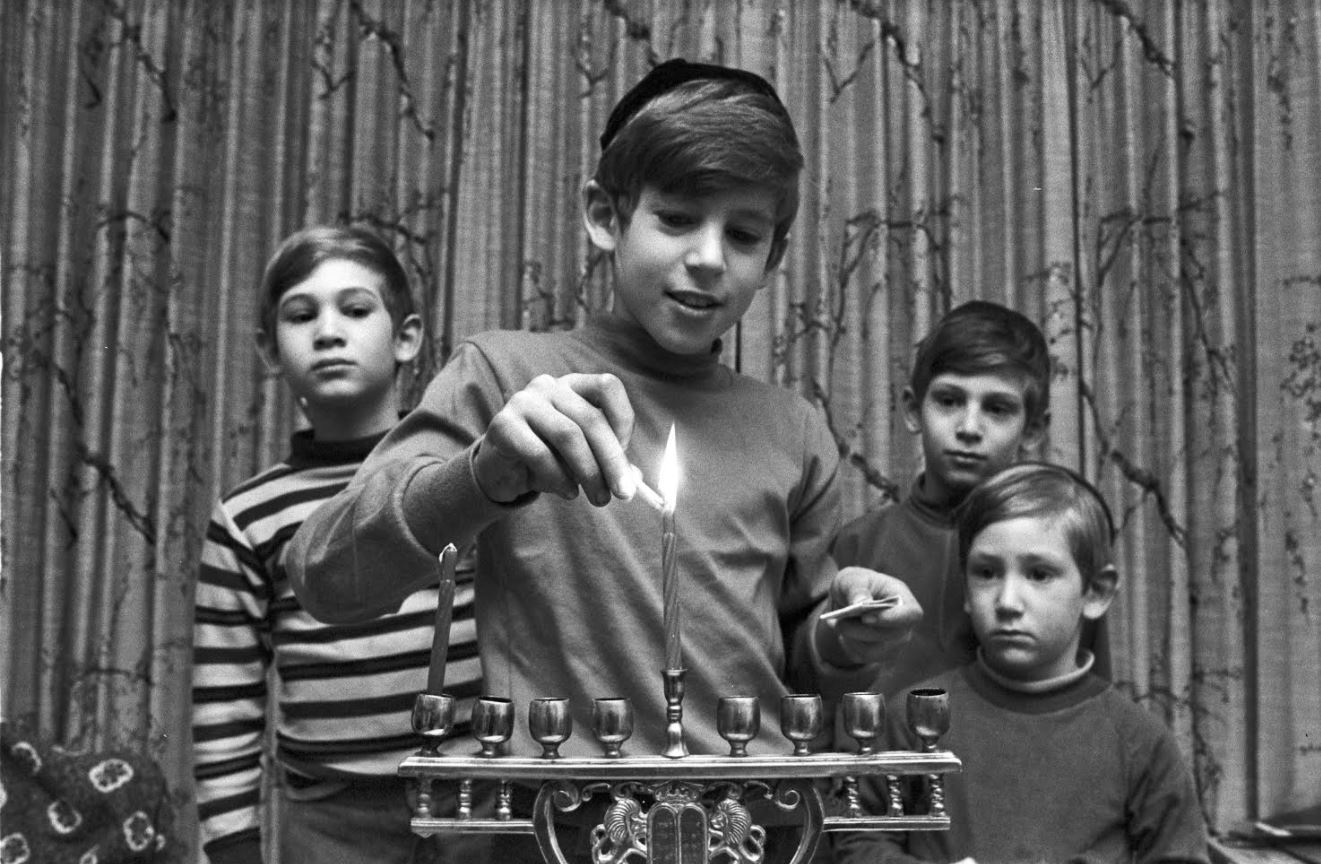 A young Jewish boy lights a menorah for Hanukkah as his brothers look on in Brookline, MA in 1971. Photo by Spencer Grant/Getty Images
This Week's Guests: Gil and Tevi Troy
Not long ago, Conservative Judaism was America's largest and most vital Jewish denomination. Today, things are different; for many years now, the movement has been losing and not replacing its members. In a recent essay written to mark and reflect upon one year after the passing of his mother, the historian Gil Troy wrote that "philosophically, history vindicated [my mother's] passionate Zionism but repudiated her pick-and-choose Judaism. My two brothers and I represent a vast historical experiment that mostly flopped: mid-20th-century Conservative Judaism."
This week's podcast looks at that experiment through the personal, private, and illustrative experiences of Gil Troy and his brother Tevi. Both passionately committed Jewish leaders who were raised in a home devoted to Conservative Judaism, they join Mosaic's editor Jonathan Silver to provide an intimate look at their differing journeys out of the movement, and the ways they've both tried to confront the questions modernity posed for them that Conservative Judaism just couldn't answer. 
Musical selections in this podcast are drawn from the Quintet for Clarinet and Strings, op. 31a, composed by Paul Ben-Haim and performed by the ARC Ensemble.
Excerpt (5:44-6:54):
I tried in the article to tell a story about our Judaism. It's a story of tremendous success, because all three of us―my older brother Dan, I'm the middle son, and my younger brother Tevi―lead incredibly rich Jewish lives, and every one of our children lead incredibly rich Jewish lives. And yet, it's centered around a major failure, a major disaster. My father gave his entire life to the Conservative Jewish movement: he was a Jewish Theological Seminary graduate, he taught in Conservative Jewish day schools, and was a principal in Conservative schools. It was so central to his life and to our lives, but none of us went down that path. None of us today would call ourselves a Conservative Jew. 
I actually originally titled the piece "the Godlessness that failed" because at the end of the day, I think the voluntary, "I'm OK you're OK," if-it-feels-good-do-it nature of Conservative Judaism, which was just trying to fit in to the American way, ultimately wasn't sustainable, and so most left it, and couldn't find it compelling enough, and a few crazies like us doubled and tripled and quadrupled down on our Jewish identity.