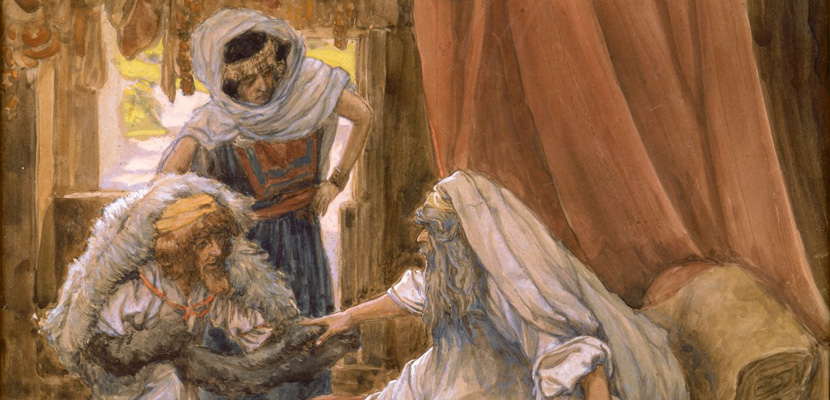 Jacob Deceives Isaac by James Tissot, 1902. Wikiart.
This week's Torah portion of Toledot (Genesis 25:19 – 28:9) is about the costs and benefits of obedience, or of emulation if you will. Where Abraham's story begins with God's demand that he leave his father's house and go wherever the Almighty wants him to go, this story is about three men, none of whom really wants to leave his father's house, and one woman who sees to it that her sons do what God requires. The story is about staying, not going, and the price exacted by each.
But these are the annals of Isaac son of Abraham, Abraham fathered Isaac.
And Isaac was forty years old when he took Rebecca daughter of Betuel the Aramean of Pedan,
sister of Laban the Aramean, as his wife.
And Isaac entreated the Lord when he found his wife was barren
and the Lord assented to him and Rebecca his wife conceived.
And the children rattled about inside her and she said, Why am I like this?
And she went to inquire of the Lord and the Lord told her,
Two peoples are in your belly and two nations will part from your loins
and one nation will fortify the other
and the elder will make offerings to the younger.
A key question at this point is just what is meant by "the elder"? Many commentators have justified Rebecca's subsequent actions as being intended to fulfil this prophecy by seeing to it that her firstborn son Esau will make offerings to his younger twin Jacob. Her actions do fulfil the prophecy, but in exactly the way she does not want. Yes, they allow Jacob to assume the role of firstborn, but they also drive him from his father Isaac's house, only to return many years (and several Torah portions) later to make offerings to his "younger" brother Esau in recompense for having stolen the birthright and their father's blessing. So what does this story mean?
But the boys grew and Esau became a man skilled in hunting, a man of the field,
and Jacob was an innocent man who lived in tents.
And Isaac loved Esau for the game in his mouth, but Rebecca loves Jacob.
And Jacob stewed a stew and Esau came from the field and he was tired
and Esau said to Jacob, Give me a mouthful of that red red stuff now
for I'm tired (that's why they called him Red).
But Jacob said, Sell me your birthright today,
and Esau said, Here I am going to expire—what do I need the birthright for?
But Jacob said, Swear to me today
and he swore to him and sold his birthright to Jacob
and Jacob gave Esau bread and lentil stew
and he ate and he drank and he rose and he left.
And Esau scorned the birthright.
Two more details as the story sets its traps. The description of Jacob as an innocent man who dwells in tents is left like a loaded gun in the middle of the stage. First, in what sense is he innocent? I always assumed the Torah was being profoundly ironic here—just for starters, Jacob is hustling his brother for the birthright only two lines later—but I've been forced to conclude otherwise.  Jacob, I think, is innocent in the way the third son in the Passover Haggadah is innocent (both texts use the same Hebrew word). There's a wise son who has faith, a wicked son who voices doubt, an innocent son, and lastly one so simple he can't even ask questions. Jacob is like the innocent son in not really considering the consequences of his actions. He does not behave in such a way that a rabbinic court might consider him, for legal purposes, a grownup.
Who, then, should inherit Abraham's blessing: the driven but dangerously "innocent" Jacob, or the rightful heir who is so unfit to inherit that he'll trade his birthright to fill his stomach?  So far, our story seems to present us with an impossible choice.
The second key detail is the description of Jacob as a tent-dweller. Unlike Esau, an independent creature soon to defy parental authority by choosing his own wives, Jacob will go from his mother's home to his uncle's, and will take his wives where he's been told to by his parents; it will be another 20 years before he finally strikes out on his own with his own family. Jacob is conflicted: between the drive to acquire greatness at any cost and the impulse to conform with what is expected of him. Is that the kind of person we want inheriting the family mission?
As if to parallel the dilemma, the narrative now interrupts itself to catch us up on the story of the boys' father, Isaac:
But there was a famine in the land, apart from the first famine in Abraham's day
and Isaac went to Avimelekh king of the Philistines, toward Grar
and the Lord showed Himself to him and said, Do not go down to Egypt,
fix in the land that I'll tell you, migrate to this land and I'll be with you and bless you.
For to you and your descendants I'll give these lands
and I will fulfil the oath I swore to Abraham your father. . . .
And Isaac sowed in that land and realized in that year a hundredfold
and the Lord blessed him, and the man became greater . . .
and the Philistines envied him.
And all the wells his father's servants dug in his father Abraham's day
the Philistines had blocked and filled with dust. . . .
But Isaac went from there and pitched his camp at the Grar river and settled there
and Isaac settled and dug the water wells they'd dug in the days of his father Abraham
that the Philistines blocked after Abraham's death
and he named them by the names his father called them. . . .
And he went up from there to Beer Sheva and the Lord showed Himself to him at night
and said, I am the God of Abraham your father.
Do not fear for I am with you and I will bless you and make many your descendants
For the sake of my servant Abraham.
This episode contrasts two modes of receiving and then transmitting the divine blessing. We have already seen Jacob hustling and chafing at the reins, but here we see his father following meticulously, assiduously, in his father's footsteps. When faced with a famine, he does what Daddy did and goes down to Grar to Avimelekh, but the Lord appears and tells him explicitly that his mission is different from Abraham's—he is a preserver, not a creator. He is not to go down to Egypt, but rather to hold onto and strengthen the claim of Abraham on these lands. Isaac re-digs wells and reclaims them with the same names his father had given them.
Isaac is the second generation, consolidating the wealth of the initial money-maker. Nearly all cultures have a version of the expression, "from rags to riches to rags in three generations." If it is to be the story of this family, it won't be Isaac's fault. He's holding on.
But there is a price to pay for being obedient. The blessing Isaac receives and has to transmit is not really "his"—everything the Lord does for Isaac, after all his filial service, is done for the sake of Abraham. Isaac is just a place holder before the advent of the next creative spark, the one who will think outside the box. Who will it be, and what will he pay for the privilege?
And it was when Esau was forty years old that he took to wife
Judith daughter of Be'eri the Hittite and Basmat daughter of Eilon the Hittite
and they were the bane of Isaac and Rebecca's spirit.
Bane or no bane, Isaac still wants to bestow the blessing on Esau, not Jacob. He initiates the process by telling his favorite son to go hunt some game, "so that I'm alive to bless you before I die." But, fatefully, Rebecca intervenes:
And Rebecca spoke to Jacob her son, saying, Look
I heard your father talking to your brother Esau,
but now my boy listen to me about what I'm telling you—
go now to the goat pen and get me two nice kids
and I'll make them tasty things for your father
the way he likes, and you bring them to your father for him to eat
so he'll bless you before he dies. But Jacob said to Rebecca his mother,
Since my brother Esau is a fuzzy man and I am a smooth man,
maybe my father will feel me and he'll see me as a fraud
and I'll bring a curse on myself, not a blessing.
But his mother told him, Your curse be on me my son,
just listen to me and go get them for me.
And he went and he took and he brought them for his mother
and his mother made tasty things as his father liked.
And Rebecca took the clothes of her big boy Esau,
the finery that was with her at home,
and dressed Jacob her little boy,
and the pelts of the kid goats she pulled over his hands
and over his exposed throat,
and she put the tasty things and the bread she made in the hand of Jacob her son.
And he came to his father and said, Dad,
and he said, I'm here. Who're you, my son?
And Jacob told his father, I'm Esau your firstborn,
I have done as you told me,
get up now and sit you down to eat my game
so you'll live to bless me.
But Isaac said to his son, What were you so quick to find, my son?
And he said, Just what the Lord your God chanced before me.
But Isaac said to Jacob, Come on over and let me feel, my son,
if you are he, my son Esau, or not.
And Jacob went over to his father Isaac and he felt him and said,
The voice is Jacob's voice but the hands are Esau's hands.
And he didn't recognize him because his hands were fuzzy like his brother Esau's,
and he blessed his son, but said: Is it you my son Esau?
and he said, It's me,
and he told him, Serve me and I'll eat my son's game
so I'll bless you while I'm still alive.
And he served him and he ate and he brought him wine and he drank
and he went over and kissed him and he smelled the smell of his clothes
and blessed him and said,
Look, my son smells like the smell of a field blessed by the Lord.
The drama of this scene is unequalled by anything outside of Shakespeare. Again and again, Isaac's instincts tell him that this is not the son he wants to bless; again and again, Jacob holds his breath thinking he's going to be discovered; again and again, he has to lie. Commentators note that after the scene where Esau sells his birthright to Jacob, the text never refers to him as the firstborn. It keeps hammering home that one of the two is older and one younger, one bigger and one smaller, but never that Esau is the firstborn: that is, the presumed heir. Which is one reason it's such a shock in this scene to hear our hero lying to his father, who clearly loves Esau dearly.
And then, no sooner has Isaac finished blessing Jacob than Esau enters. Now the father is confused:
Who was it then who hunted game
and brought it me and I ate it all
before you came, and I blessed him, and blessed shall he remain?
As Esau heard his father's words he cried a great and most bitter cry
and told his father, Bless me too, Daddy.
But he said, Your brother came by wiles
and took your blessing.
And Esau bore a grudge against Jacob over the blessing his father blessed him,
and Esau said in his heart, The days to mourn my father are nigh,
and I'll kill Jacob my brother. And Rebecca was told the words of Esau her big boy
and sent to call Jacob her little boy
and told him, Look, Esau your brother
comforts himself with the thought of killing you,
but now my son listen to me and get up and flee for yourself
to my brother Laban, toward Haran, and you'll settle with him a few days
until your brother's fury wanes
until your brother's rage falls away from you
and he forgets what you did to him
and I'll send to take you from there.
Why should I lose both of you in one day?
But losing them both is exactly what she has caused to happen. Rebecca will die before Jacob eventually comes home, and her machinations alienate her from Esau. Having caused Jacob's exile, she now puts in motion a formal dissociation of Esau from the inheriting line of the family:
And Rebecca said to Isaac, I'm at the end of my tether from these Hittite girls.
If Jacob takes himself a wife from these Hittite girls, from these girls in the land
Why should I want to live?
And Isaac called Jacob and blessed him
and commanded him and said, Don't take a wife from the Canaanite girls,
get up and go to Padan Aram the home of Betuel your mother's father
and take yourself a wife from there, from the daughters of Laban your mother's brother.
And the God Shadai will bless you and make you fruitful and make you many
and you shall be a host of peoples and he'll give you the blessing of Abraham. . . .
And Esau saw that Isaac blessed Jacob
and Esau saw that the Canaanite girls looked bad to Isaac his father
and Esau went to Ishmael and took Mahlat daughter of Ishmael son of Abraham
sister of Nevayot over his wives, to be his wife.
I find this passage almost as heart-breaking as Esau's desperately sad cry to his father to bless him, too. This urge to please his parents by marrying again, and then going disastrously to the family of the bypassed Ishmael to do so, reminds me of the moment in Arthur Miller's Death of a Salesman when the desperate younger brother Happy tells his  mother: "I'm gonna get married Mom. I wanted to tell you," and she says, "Go to sleep, dear." And he says, "I just wanted to tell you," but she still isn't listening.
The truly awful thing about this story is that Esau is clearly unworthy of the blessing of Abraham. As if the early incident with the stew were not enough, he has twice gone off without consulting his parents and married the wrong person, which is what Abraham spent the entire previous week's reading (Genesis 23:1 – 25:18)  making sure Isaac wouldn't do. So it clearly cannot be Esau who will continue the family story—but why does it have to be so painful? And why has Isaac had to spend his life following in Abraham's footsteps only to be told that God has put up with him only for his dead father's sake? And why, despite his own love for Esau, must Isaac go through the bedside charade over the blessing?  Whatever Isaac's own preferences may be, he always bows to Rebecca's aims, recognizing that when Jacob leaves home to do her bidding and marry the way he himself did at his father's command, the blessing will go with him. Blessed he shall be.
And the blessing, finally, is a burden. What Abraham did out of a deep and developing relationship with the Almighty, Jacob does out of a mixture of innate ambition and familial imperative. Neither he nor Esau is ever addressed directly by God. Rebecca engineers it all. It is only once he is cast out of his father's house that, in next week's reading, God appears to him. And only when he returns to confront Esau as a well-to-do and independent pater familias will he encounter and wrestle with the mysterious entity in the night.
In the end, it is difficult to say whether Jacob, the "innocent" con artist, was born to greatness, achieved greatness, or had greatness thrust upon him by his mother.
But he has no choice now. He wanted it, and it's all his. Rebecca's parting words to him—"flee for yourself"—deliberately contain an echo of God's initial word to Abraham—"go for yourself." But it is one thing to go, and another to flee. For an awfully long time, the family mission that Jacob sets out on will look like a road to rags, not riches. One thing that fulfilling the divine will does not guarantee, in Jacob's case, is a life of ease.
If anyone profits materially in this story, it is Esau, the one who has also lost the most emotionally. But nobody wants to leave home. And nobody in this story is loved by God as much as He loved His servant Abraham.