This is a response to Obama's Secret Iran Strategy, originally published in Mosaic in February 2015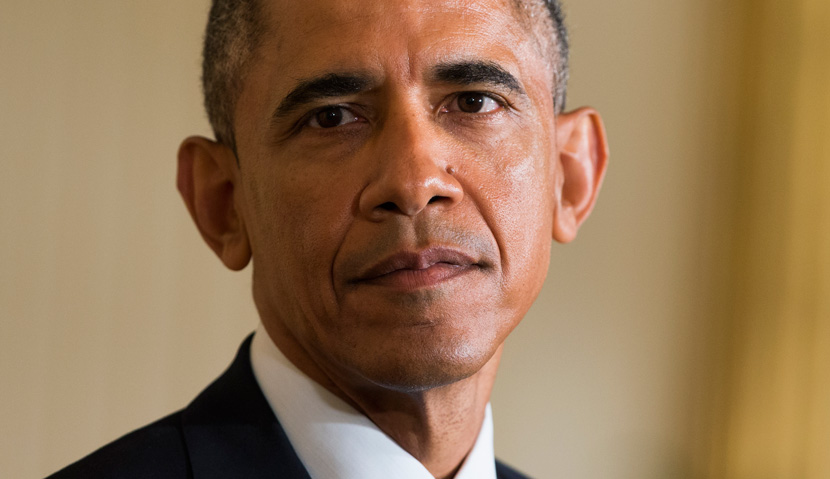 AP Photo/Evan Vucci.
President Obama's foreign policy cannot be understood or defended as an effort to advance American national interests as they are normally understood.  By any usual definition—strengthening of allies, defeat of enemies, military advances, nuclear nonproliferation—his administration's policies have been disastrous. That leads logically to the question: "Well, what does the president think he's doing?"
In "Obama's Secret Iran Strategy," Michael Doran has tried to answer this question, and has offered a superb analysis. No one has more persuasively explained the connections between that strategy's various parts, such as the president's inaction in Syria and his hostility toward Israel, and the primary Obama goal of a rapprochement with Iran. Doran is especially effective in analyzing policy toward the Assad regime: "Obama has treated Syria as an Iranian sphere of interest all along," and in his August 2014 letter to Iran's Ayatollah Khamenei took "pains to reassure Khamenei regarding the fate of Assad, [the latter's] closest ally. American military operations inside Syria . . . would target neither the Syrian dictator nor his forces."
If I have one disagreement with Doran, it is over the origins of Obama's approach to foreign policy. According to Doran, Obama "believed he had been elected to reverse the legacy of his predecessor, George W. Bush," and "Obama's mission was to guide America out of Bushland." What was the origin of these beliefs and this mission? In arguing that "Obama does have a relatively concrete vision," Doran points out that on joining the Senate in 2006, "he absorbed a set of ideas that had incubated on Capitol Hill during the previous three years—ideas that had received widespread attention thanks to the final report of the Iraq Study Group."
In fact, Obama came to Washington with his beliefs about American foreign policy and our role in the world already well set in his mind, and needed no guidance from the Iraq Study Group. We were given some insight into those basic beliefs early in his campaign for the Democratic presidential nomination. While in Iowa in 2007, as Politico reported at the time, he visited Adair County,
making a stop in the hometown of one of the saints of the American left, one-time vice president and Progressive-party presidential candidate Henry Wallace. "We've got some progressives here in Adair. I'm feeling really good now," Obama said. . . . "That's quite a lineage there. . . . It's a blessing."
This, about the man whom FDR dumped from the 1944 ticket for his espousal of leftist causes, the man who ran against Truman and the Democratic party in 1948, and who argued that peace with the Soviet Union only required more American understanding and outreach in place of militarism and cold-war hostility.
Given all we know, I would argue that Obama's mission is to guide America not only out of Bushland (as Doran puts it) but out of Rooseveltland, Kennedyland, and Clintonland—and indeed to reverse most of the foreign-policy legacy of his own party, with the exception of that of Wallace and its 1972 candidate for the presidency, George McGovern. The ideas espoused by Obama "incubated" decades ago, and were most likely adopted back at Columbia University or in the Chicago kitchen of his friends of Weathermen fame, Bill Ayers and Bernadine Dohrn.
Doran refers several times to Obama's "strategic vision." I would prefer the term "ideology." The enduring hold of that ideology is visible not only in his Iran policy but also, most recently, with respect to Cuba. There, too, he has reversed decades of American foreign policy, and has done so, as in the case of Iran, without seeking any deep concessions from the Castro regime.
In concluding the November 2013 Joint Plan of Action with Iran, Doran notes, Obama accepted a "basic asymmetry," trading permanent American concessions [in exchange] for Iranian gestures of temporary restraint." Similarly, in Cuba, Obama's recent deal—call it another "Joint Plan of Action"—abandons previous American demands for real political change on the island prior to any lifting of the embargo. And just as he has offered his regrets to Tehran for the (long exaggerated) American role in the 1953 overthrow of the Mossadegh government, so too has he expressed apologies—in this case, in a telephone call with Raul Castro—"for taking such a long time" to change U.S. policy. In both instances, Obama has acted not to advance American national interests but to make amends for U.S. policies and actions that he views as the immoral and retrograde detritus of the "cold-war mentality."
Of course, Obama's defenders acknowledge none of this. Instead, they invoke his putatively superior understanding of reality.  As Doran paraphrases it, the president believes that, over time, "integrating Iran [and, I would add, Cuba] into the international diplomatic and economic system is a much more effective method of moderating its aggressive behavior than applying more pressure." Obama and his supporters also assert that, in any event, the only alternative to his approach is war. Doran rightly dismisses both arguments. One need only look at the success of the Reagan administration in dealing with the Soviet Union to know that military power, strong alliances, and ideological clarity—what Doran refers to as "vigorous containment on all fronts"—do not lead to war. They lead to success.
Doran concludes his essay on a very pessimistic note: "Having bested the most powerful country on earth in their drive for success on their terms, [the Iranians] have good reason to be confident." Allow me to conclude on a more optimistic note: they have reason to be confident for now, but current policy may not outlast Obama. It remains to be seen whether, after January 20, 2017, the American people and their leaders in Washington will really permit a nation of 70 million, with a third-rate military and a damaged economy, to dominate the Middle East and threaten all of our allies and interests there.