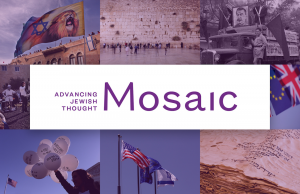 Mosaic, the magazine of Jewish thought and culture, is looking for full-time editorial talent to start immediately. We are searching for applicants at two levels; we are interested in junior- and/or senior-level talent.
Knowledge of and engagement with Jewish matters is required. Editorial experience is highly desirable, as is familiarity with web and media technology.
We offer full benefits, a schedule friendly to Jewish religious observance, and competitive compensation commensurate with experience. Our offices are in Washington, D.C. and New York City.
Examples of functions performed by editors at Mosaic can include:
Participating in all aspects of the editorial operation, from proposing and developing article ideas with writers to editing manuscripts and seeing them through to publication
Writing web-friendly headlines and finding web-friendly images
Handling authors and managing their payments
Finding, summarizing, and presenting important, relevant Jewish content from around the web
Managing and editing social-media accounts (Facebook and Twitter)
Working on subscription-related services, handling donations, and answering reader correspondence by email and via site comments
Keeping track of trends in Jewish and Israeli politics, culture, literature, and religion, and identifying which are worthy of coverage
Managing development and upkeep of the Mosaic website and related projects
Marketing and publicizing Mosaic's content and subscription efforts
If interested, please send a cover letter, résumé, and one writing sample to hiring@mosaicmagazine.com. Applications are due Sunday, March 1, 2020.
February 2020