A friend forwarded to Mosaic the following letter from his son, composed soon after the events it describes. The author wishes to remain anonymous. What follows is the father's description, then his son's direct testimony. The video and photo included were taken by the author.—The Editors

———

"My neighborhood was inundated with terrorists on Saturday. There were battles outside my window for hours and a hostage situation a block away. Below is what my son, age twenty, wrote for his friends at the Border Police base afterward. I don't have words to express the pride in my heart for the way he responded and my gratitude for his returning unharmed. He is a hero of Israel, and there are many like him.

Did you read the story of Rachel Edry? One block over and a few houses up. It's modern-biblical.

I know that this keyboard is real, and with the same level of conviction, I know that Hamas will be a subject for the history books, like all of our previous enemies, while the nation of Israel will survive and thrive. I feel that many Jews feel the same way, and I think this is a deep form of faith."—A.T.
———
OK, so I'll tell you what happened this Saturday from my perspective. I'll go right into the smallest details about what happened.
I got back from visiting my friends at 5:00 am. Around 7:00 am, I woke up to see my little brother and my mom in my room, saying there were missiles. (My bedroom is our safe room).
Five minutes after the missile launches started, my little brother got a message from a friend saying he could hear gunshots near his house. I decided to head out to see if everything was OK.
I got in the car and drove over to the neighborhood with my service rifle. When I got there, there were loads of police cars and the sound of gunfire. Immediately, I ran over to the first policeman I saw and joined up with him, telling him that I was in the Border Police.
We opened fire at two of the terrorists' pickup trucks. There were around eight terrorists inside. We finished them off and Binyamin told me to change into my Border Police uniform so I could be identified.
I went home and changed into my uniform, and my little brother drove me back toward the place. On the way we saw a police car, so we pulled over and I got in. My little brother went home and I went back to the place with the police officers.
When I got there, Binyamin wasn't there and there was another incident on Pri Megadim Street, right under my dad's place, and my little sisters were there. I joined up with someone called Younis from the Border Police and together we pulled out our weapons on the street. Behind us were the Hamas pickup trucks, after the terrorists had been eliminated and their stuff taken away. I'll send you the pictures I took.
As that was happening, there were sirens and two missiles fell right next to me—one 50 meters away and another around 300 meters away. I'll send you those images too.
After around half an hour, a armored police vehicle pulled over, and the officers talked to Younis. Binyamin was inside with another officer. I asked them if they had room, and they told me to get in. The three of us drove around Ofakim, and every time we got a report over the radio about a suspected terrorist, we drove there to provoke him and get him to shoot at our armored vehicle instead of civilians. That's how we spent an hour driving around Ofakim, at the gas station in Urim—in Urim itself and at several other places on the road.
Until that point, we didn't have any run-ins. Then we got a report over the radio about a party around Re'im, saying there were loads of casualties and no troops around. The three of us decided to drive over and see what was happening.
About 500 meters before Re'im, there was a Yasam [Israel Police Special Patrol Unit] force of around ten officers and a few cars waiting there. We asked them where the casualties were and they told us to keep going straight, and then to take a left at the junction.
The Yasam forces didn't enter Urim, I don't know why. We had two M-16s and vests, and went in. They also didn't give us the right directions. We had to take a right and go through Re'im to the other side of the moshav, which is where all the casualties were. [Re'im was the site of the rave that was overrun by terrorists and where several hundred people were killed.]
We kept going straight and after about a kilometer, we saw an armored police vehicle with five soldiers, who it turned out were terrorists. We slowed down to stop them and they opened fire on us. The gunfire was so intense that the glass from the windscreen flew in our faces and they also hit the engine. The vehicle could barely move but we were able to reach the junction and turn right. Another 500 meters later, we saw a shelter. We stopped and checked if anyone was there.
We got to the shelter and found around fifteen scorched bodies inside. I assume they were hiding there and the terrorists threw a Molotov cocktail inside. We saw two girls from the party who were still alive, so we brought them into our vehicle and gave them medical attention inside. We continued to drive at around 10 kilometers per hour down the road, till we saw a tank and lots of people from the party around it. We stopped and dropped the girls off there.
As soon as they got off, we got shot at with two RPGs, which missed us by a few meters, as we came under a hail of bullets. Looking around, we saw around 50 people from the party, a reservist with a MAG [machine gun], and a policeman with a pistol. We were five people with only two long guns, against twenty terrorists who were much better armed. Luckily, we had brought ammo from Ofakim, but we had only six magazines.
While we were under fire, we took turns—one bandaging the wounded and the other shooting at the terrorists in the nearby woods. During all this chaos, I gave my gun to a soldier who was at the party while I bandaged people, and from then on, the guns got passed around soldiers who attended the party, so we could give first aid at the same time. Everyone fired with whatever gun he had.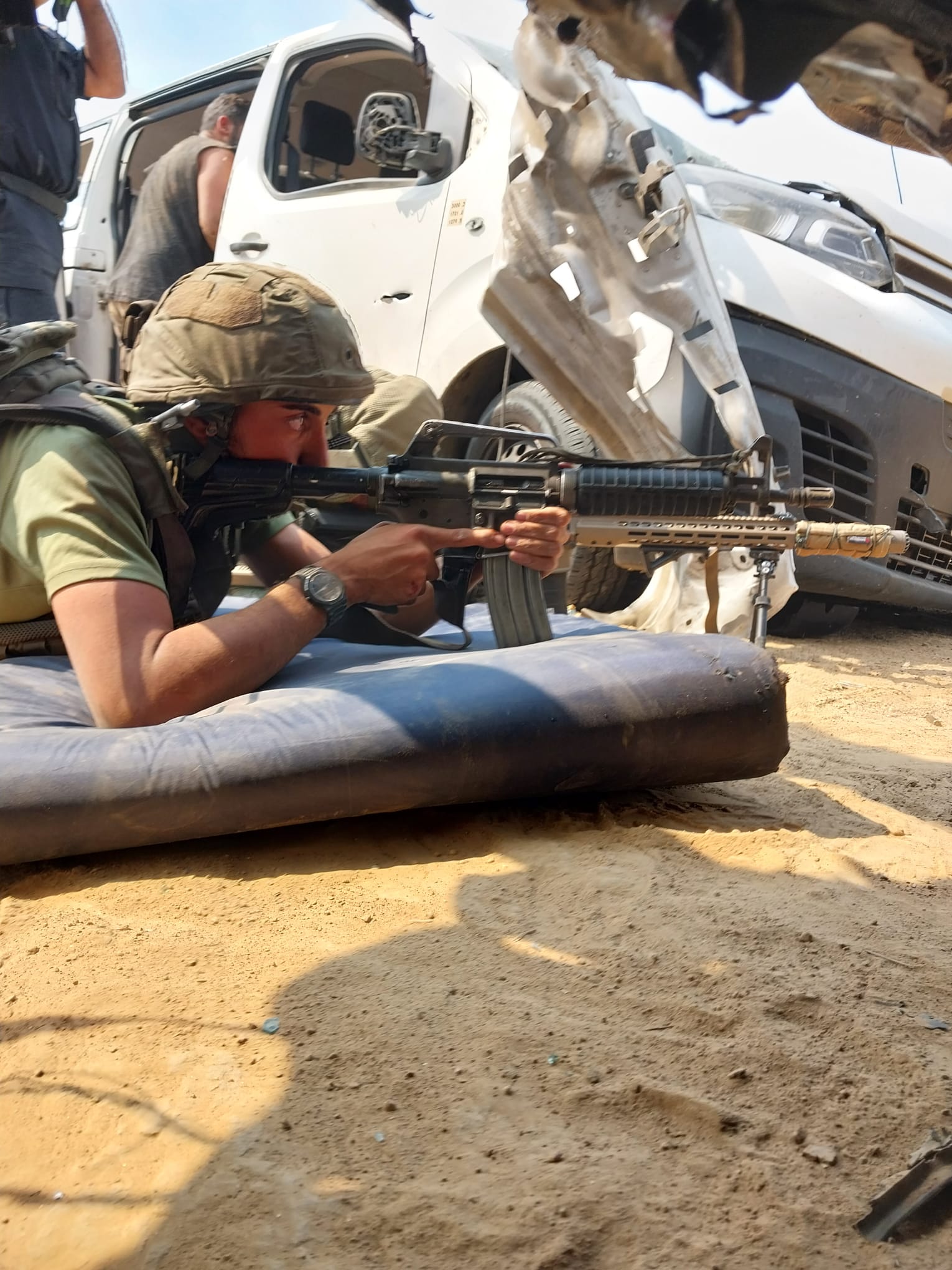 When we started running out of ammo, we started shooting with the Kalashnikovs of the terrorists we had killed. After an hour of fighting, an IDF force of three armored vehicles finally arrived. We loaded the people with the most serious injuries onto their vehicles and sent them off, while some of soldiers joined us to fight.
And that's how, bit by bit, we evacuated people and took the terrorists down until the Yamas Mista'aravim force [an elite counterrorism unit] arrived and finally, in the end, the Border Police tactical force arrived.
During the fighting, every few minutes we found a civilian who'd been hiding, or had one run up to us. All in all, I'm estimating we had around 200 people from the party.
In total, I saw about 50 people from the party killed and we took down ten to twenty terrorists. Every once in a while, an RPG or shrapnel hit someone and we had to treat and bandage them. We put most of the people around and under the tank and behind the small shelters out there in the field. As for the tank, it had taken a rocket strike and there was a dead soldier inside. We assumed they'd kidnapped all the others. Most of the people who came to the tank thought they were coming to an IDF force.
That's more or less what happened. When the IDF force arrived, the whole police force packed up, including me. I went to the police station and went to speak with the injured who hadn't been evacuated to Soroka Hospital, to check that they were OK.
Today was no less: another six terrorists killed, but I'll tell you about that when I get to the base.
I hope you're all OK and your families are OK and I hope that as a company, we'll head out to the field and exact revenge in the name of everyone who was murdered.
Full of love for you ❤️.
More about: Gaza War 2023, Hamas, Israel & Zionism, new-registrations